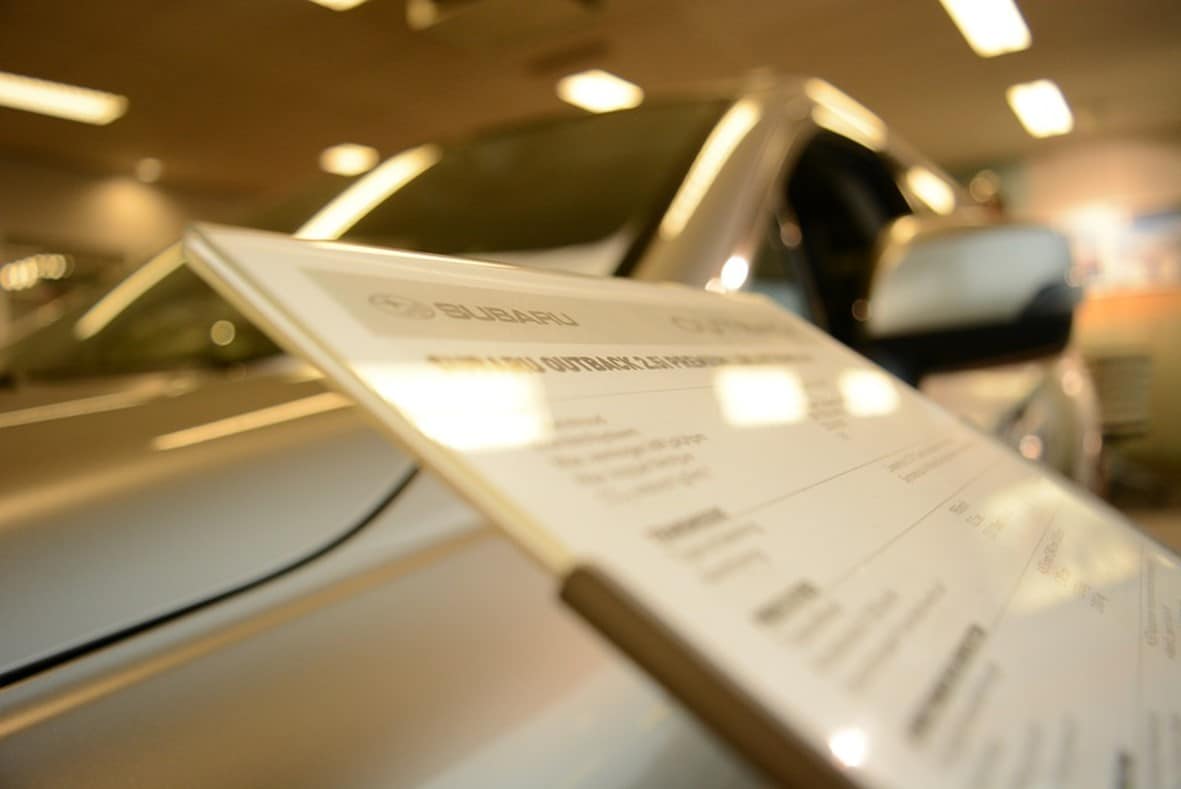 When you're shopping for a new car, you'll ultimately need to make a major decision — should you lease it or buy it outright? Because both options have their advantages and disadvantages, depending on your situation, it can be difficult to decide. We here at Huffines Subaru want to make the buying process as easy as possible for you. With that in mind, here is some basic information on the difference between buying a car and leasing a car, along with some advice to help you make the right choice.
What Does Buying a Car Involve?
The process of buying a car is fairly similar for most people. It starts with you finding a new car that you like. After you decide on a car, you negotiate the price with the dealership. Once both parties agree on the total value of the vehicle, you then need a way to pay for it. Most of us do not have thousands of dollars lying around to pay for a new car in cash, so most people buy a car using a car loan.
With a car loan, you borrow money from a bank or credit union, then agree to make monthly payments on that loan over a fixed amount of time. You'll accrue some interest on this loan, meaning you ultimately end up paying slightly more for the car than the negotiated sale price. Over the course of the loan, as you make payments on it, you build equity until all payments are complete, at which point you finally own the car.
There are a few benefits to buying a new car with a loan. First, once all the payments are complete, you own the vehicle. So, for example, if you pay off the car in five years, you don't have to make any additional payments for as long as you own the car after that. Taking out a loan and paying it off each month can also help to boost your credit score. Finally, you can take out a loan to buy a used car, unlike leases, which are only available on new models.
However, there may be some drawbacks depending on your situation. For example, buying a car often comes with a higher monthly payment compared to leasing. In addition, the longer you keep your vehicle, the more likely it is to run into trouble. Finally, depending on your personal finances, you may not be able to secure a loan on the type of vehicle you want to get.
What Does Leasing a Car Involve?
When you lease a car, you're essentially borrowing it from the dealership for a few years and agree to pay the amount that the vehicle depreciates in value. For example, let's say you want to lease a car that costs $20,000 for three years. Over that time, the car would lose $6,000 in value. With a lease, you would make fixed monthly payments on that $6,000 and return the car at the end of the lease.
Going with a lease has some significant benefits. For starters, you get to drive the vehicle during its most reliable years. In addition, lease owners typically move from one lease to the next. This means you are always driving the latest model vehicle, allowing you to experience the best technology and rides on the market.
Of course, there are some drawbacks to going with a lease over buying a car. For one, at the end of the lease, you have to give the car back. You then need to find another car and start making payments again, either on another lease or on a loan. By going from lease to lease, you never finish paying off a vehicle, so you never get a break in the monthly payments. In addition, most lease contracts limit the total number of miles you can drive. If you go over this cap, you'll need to pay an extra fee to the dealership.
Which One Is Right for You?
Whether you should lease or buy a vehicle depends on your situation. For example, if you don't drive around a lot and want to drive the latest models at a more affordable price, you might prefer to lease a car. With your driving habits, you should be able to stay under the mile limit easily and could trade it in for a newer model at the end of the lease.
On the other hand, if you want to get the most value out of your vehicle, buy it. If you take good care of the vehicle, you could continue to drive it well beyond the end of the monthly payments, significantly increasing the value you get from it. While the monthly payments might be higher than if you got a lease, you'll ultimately end up paying less because the payments have an end date.
Ultimately, deciding between buying a new vehicle and leasing it depends on what you're looking for and your financial situation. You'll have to consider how much you're willing to spend, what you want your future finances to look like, and the type of car you want to drive.
Let Huffines Subaru Corinth Help You Decide
If you're having trouble deciding between leasing and buying your next vehicle, let Huffines Subaru Corinth help you decide. We not only have a wide selection of new inventory and used inventory, but we can explain the advantages and disadvantages of both leasing and buying based on your situation. We'll walk you through our lease specials to see if one is right for you, and if not, help you get started on the loan process.
Huffines Subaru Corinth is here to help you get the car you want regardless of your situation. Whether a lease or buying is better for you, we'll make sure you end up with a car you love that fits your financial situation. We are always available to answer any questions you may have about specific models or the car buying process. To get started, simply contact us today and schedule a visit.
Image via Pixabay by Pexels