The Forester was Subaru's first compact SUV and has, over the years, earned a reputation for reliability and durability. It's a Top Safety Pick, according to the IIHS, and has a peppy engine and off-road chops. The Forester has something for every driver. It's an impressive commuting car that will get you to and from work for many years. It's also the vehicle you want to take you on your weekend adventures.
Here's a look at why you can count on the Forester to last no matter your driving style.
What Is the Subaru Forester?
The compact Forester is a capable crossover SUV that offers off-road capabilities and a smooth on-road ride. Its comfortable cabin has two rows of seats for five occupants and comes with convenient storage bins, the latest tech, and trendy amenities. Besides plenty of room for passengers, the car boasts over 31 cubic feet of storage space behind the rear seats. This space can open up to over 76 cubic feet if you fold down the rear seats.
The cabin has a simple layout, with cloth upholstery in the lower trims and high-quality leather in the Touring trim. Tech features include a touch-screen display and Subaru's StarLink infotainment system that's compatible with Apple CarPlay and Android Auto. A Wi-Fi hot spot is available, along with extra USB ports, an upgraded stereo, and integrated navigation.
What Powers the Forester?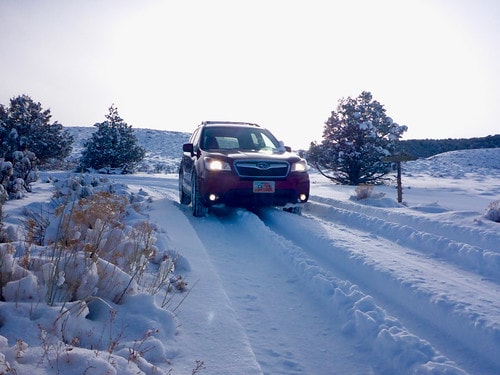 Image via Flickr by puuikibeach
Power for the Forester comes from a 2.5-liter four-cylinder gas engine that puts out 182 horsepower. It uses Subaru's continuously variable automatic transmission and, like other models in the Subaru lineup, comes standard with all-wheel drive. The automobile can tow up to 1,500 pounds when fully equipped, enough to haul a small camper or fishing boat for your adventures.
How Long Will a Subaru Forester Last?
Subaru built the Forester to last. It's a durable vehicle that will last 200,000 miles or more if you take care of it. Breaking this down, the average driver travels about 15,000 miles per year, so you can expect the Forester to last at least 13 years if you don't exceed this mileage annually and take excellent care of it.
What Makes the Forester Last So Long?
The Rust Proofing
The Forester is built for durability — the caveat is that it must be well maintained. There are very few other vehicles in the compact SUV market designed to resist rust like the Forester. All the body panels on this SUV are galvanized with zinc, while the vehicle itself is put through several different treatments (such as the galvanization process) to make sure it doesn't rust. It also has oven-cured primer coats, a chip guard to keep the paint from chipping, and electrolytic paint for an extra layer of protection.
Since Subaru puts so much work into building vehicles that don't rust, there is no need to consider aftermarket ceramic coating. But if you live in an area where it snows regularly, you should add extra protection during the winter, when there's dirt and salt on the roads. You can keep your Forester in fine shape during the chilly season by cleaning it often and washing it after storms to prevent salt buildup.
The CVT
The Forester comes with a six-speed Lineartronic CVT. The advantage of a CVT over a conventional transmission is that the former allows the engine to operate at lower speeds for a longer period. So, it's more efficient as it puts less strain on the components. A CVT also has fewer moving parts than a traditional transmission, which means it will usually last longer and require less maintenance.
The Engine
The Forester's boxer engine is another reason this vehicle can last for so many miles. The boxer name comes from the way the pistons move. In the Forester and other Subarus, the pistons move horizontally instead of up and down like in most engines. This horizontal movement is similar to a boxer punching and has many advantages. There is less vibration and the components stay more lubricated, reducing friction compared to other engines. Since the Forester's components have lubrication when the engine starts, there's less friction. Engines without Forester-like lubrication, such as an inline or V-6, have a dry start and a significant amount of friction. This extra friction causes the components to wear down quicker.
Its Safety Ratings
You can't have a car last for over 200,000 miles if it's not safe and reliable, and the Forester delivers both in equal measure. It is a Top Safety Pick+ recipient from the IIHS and receives excellent ratings — from independent assessors — for front crash prevention. Safer cars stay on the road longer, and the Forester is proof of this.
How To Get the Most Out of a Forester?
As with any vehicle, drivers need to take care of their Forester to make it last a long time. This condition means making sure the car gets regular maintenance and you adopt good driving habits to minimize wear and tear on the components. If you can learn to perform basic maintenance tasks such as checking the tire pressure and topping off fluids, it will help you get more life out of your Forester.
Your Forester will last longer if you bring it in for manufacturer-recommended maintenance at the correct intervals as stipulated in the owner's manual. You should also perform other important maintenance services, like checking the tires for wear and tear and ensuring they are properly aligned.
Give us a call at
Huffines Subaru Corinth
to find out more about the Subaru Forester and its longevity and durability. It is a top-selling model for Subaru, and for good reason. Whether you're looking to get into a brand-new Forester or you want a pre-owned one, you'll get into something that will last you a long time.