If you regularly drive away from the pavement, getting the 2022 Subaru Forester Wilderness is a good idea. The Forester is one of only two Subaru models that come with the off-road-oriented Wilderness variant. This specific trim receives several modifications that enable it to tackle rough terrain confidently, from an off-road-tuned suspension to a transmission with a higher final drive ratio. Additionally, the compact SUV features a rugged exterior to match its go-anywhere performance. Let's take a look at the exterior features of the 2022 Subaru Forester Wilderness.



Dimensions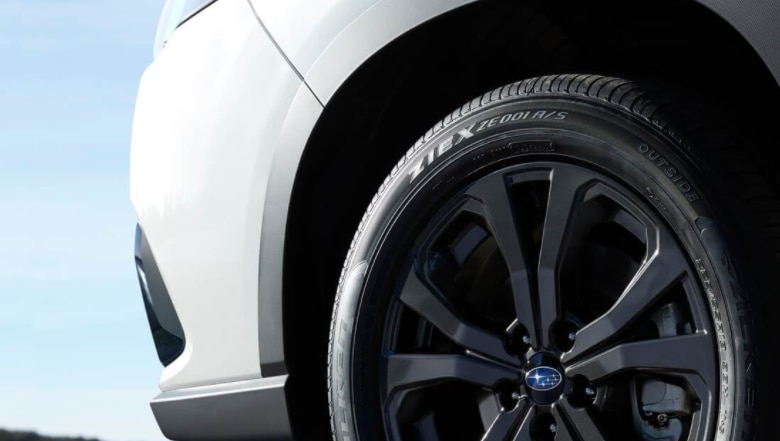 image via
Subaru USA
The all-new Subaru Forester Wilderness is 182.7 inches long, 72.2 inches wide, and 68.9 inches high. It rides on a wheelbase that measures 107.9 inches long. With a curb weight of 3,620 pounds, this relatively small SUV is easy to drive whether you're negotiating heavy traffic in the city or narrow trails on an off-road adventure. It also has an impressive ground clearance of 9.2 inches, which allows it to travel easily over uneven terrain while avoiding damage.
Styling
When it comes to exterior styling, the Subaru Forester Wilderness doesn't compromise on its outdoorsy personality. It appears tough and aggressive up front with its large honeycomb grille, bold hexagonal headlamps, and chiseled hood. It also has a tapering nose and an anti-glare, matte black hood decal that give it a sporty appeal. Along the sides, a pronounced shoulder line, chunky fender flares, and matte black finish wheels with beefy tires contribute to a sturdy and robust profile. Around the back, the crossover features a body-colored roof spoiler, thick black trim around the windshield, and wraparound C-shaped taillights.
Despite its off-road-oriented design, the Subaru Forester Wilderness won't look out of place in almost any setting. Its confident stance, well-balanced proportions, and sharp lines make it an aesthetically pleasing vehicle. This Subaru SUV is bound to draw approving glances everywhere it goes.
The Wilderness trim offers all available color options on the regular Forester, including Crystal White Pearl, Crystal Black Silica, Ice Silver Metallic, Magnetite Gray Metallic, and Autumn Green Metallic. It also comes in an exclusive color called Geyser Blue.
Off-Road Features
The 2022 Subaru Forester Wilderness isn't only great-looking, but it also offers an array of exterior features that make it a more capable off-roader. These features include:
Front Metal Skid Plate
Similar to most other off-road-focused SUVs, the Subaru Forester Wilderness has a front skid plate. The metal skid plate protects the engine and other components under the hood when traversing rocks and logs. For added protection, you can install optional steel or aluminum accessory plates under the rear differential and fuel tank.
Improved Approach and Departure Angles
Along with high ground clearance, the Forester Wilderness has greater approach and departure angles than the regular Forester, 23.5 and 25.4 degrees, respectively. This feature enhances its ability to clear obstacles on off-road trails.
Extensive Body Cladding
During an off-road adventure, branches, stones, and pebbles can scratch the paint or ding the body of your vehicle. Fortunately, the Wilderness has plenty of body cladding, with thick and tall sections covering most of the front end, fenders, and lower flanks. You don't have to worry about scuffing anything, even when you're driving at speed.
All-Terrain Tires
All-terrain tires have a knobbier tread pattern with more sipes for enhanced road grip and water evacuation. They offer better control on mud and snow and feel more predictable on gravel trails. The Forester Wilderness rides on Yokohama Geolandar A/T tires, which are on over 17-inch wheels. These tires are more street-friendly than most other all-terrain tires, which typically provide poor traction on pavement and generate excessive road noise.
Heavy-Duty Roof Rails
The Wilderness comes standard with heavy-duty metal roof rails that feature anodized copper finish accents. These roof rails can carry up to 800 pounds of weight when the vehicle is parked, enough to support a rooftop tent.
Other Exclusive Features of the 2022 Subaru Forester Wilderness
Aside from unique exterior features, the 2022 Subaru Forester Wilderness also has many exclusive performance features that make it stand out from its stablemates. Don't forget to check out the entertainment and technology features. The following are some of the most notable features of this adventure-ready Subaru model:
Upgraded Transmission
The Subaru Forester Wilderness shares the same engine as the regular Forester, a 2.5-liter four-cylinder rated at 182 horsepower and 176 pound-feet of torque. However, it uses a different continuously variable transmission with eight gears, one more than the standard version. This setup delivers punchier acceleration and quicker throttle response, making it ideal for navigating difficult terrain. Additionally, the crossover's transmission has a higher final drive ratio than the normal Forester, enabling it to climb steep slopes more easily.
Longer Coil Springs and Dampers
Longer coil springs and dampers increase the ride height of the Forester Wilderness, allowing it to soak up bumps and rough surfaces gently. The dampers contribute to a cushier ride because they have a longer stroke under compression. These suspension upgrades ensure you won't get bounced around severely, even when driving over deep trenches or rocks. On more even surfaces, such as paved or gravel roads, you'll feel minimal vibration and rattling in the cabin.
Additional X-Mode Settings
Subaru's X-Mode is a single-button driving mode that can adjust the throttle, torque split, traction control, and transmission for off-road driving. The Forester Wilderness comes standard with the deluxe version of this innovative system, which includes the Snow/Dirt and Deep Snow/Mud settings. When the crossover approaches an incline at low speed, X-Mode serves as a virtual low-range gearbox by switching the transmission to a shorter ratio. In addition, it engages hill descent control to brake individual wheels for optimal traction when going down a steep slope. The Forester Wilderness comes standard with the deluxe version of this innovative system, which includes the Snow/Dirt and Deep Snow/Mud settings.
If you're thinking of buying the 2022 Subaru Forester Wilderness in Corinth, Texas, come on down to Huffines Subaru Corinth for a test drive. Don't hesitate to
contact us
if you have any inquiries or want to make an appointment.