The 2023 Subaru Solterra is a fascinating and well-equipped sport utility vehicle. Its style and features are sure to impress SUV enthusiasts all over the nation. Let's look at the Solterra's trim levels, features, and more below so you know what this grand SUV has to offer.
Universal Features for the 2023 Subaru Solterra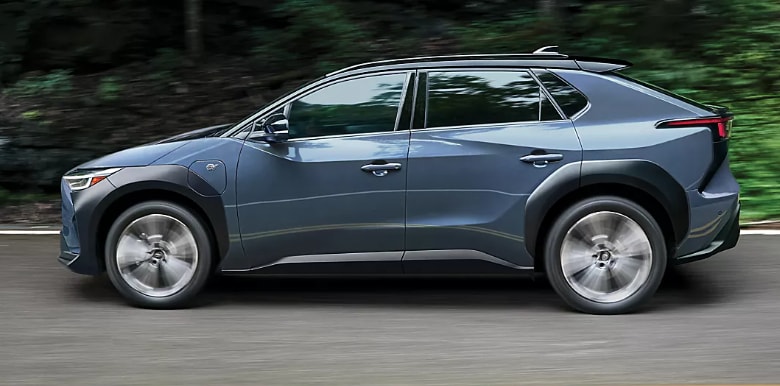 Image via Subaru
The 2023 Subaru Solterra is the car brand's first all-electric vehicle, and these are some of its universal features:
This electric SUV sports a pair of electric motors and a 72.8-kWh battery. The combination generates 215 horsepower and 249 pound-feet of torque.

The Solterra's symmetrical all-wheel-drive system is a new feature. It is one of the most responsive forms of all-wheel drive you can find for civilian use.

This SUV is compatible with Level 1 120V or Level 2 240V chargers. Charging through a compatible home outlet can be completed overnight, so you'll be ready to go each morning.

The SUV's transmission unit is a single-speed automatic CVT.
Next, let's look at the features each Solterra trim offers. The electric SUV is available in Premium, Limited, and Touring varieties.
The Premium Trim Level
The 2023 Solterra Premium bucks the ultra-futuristic trend in electric vehicle design. Aside from its electric vehicle grille plate, its design is remarkably traditional. It has moderately deep body lines across its hood and flanks, a sharp-edge-looking set of multi-lamp headlights, and 18-inch alloy wheels.
The Solterra Premium's bumpers do something unique among American SUVs: Their color and material continue up the front sides of the vehicle, making the wheel wells and the bumper a single component. Part of the fuel tank hatch also has this design feature to create the appearance of a freely flowing pattern that runs from the bumper to near the front doors.
The Premium trim's X-Mode capability is one of the more notable features. X-Mode affects five main aspects of the 2023 Subaru Solterra's operation.
X-Mode slows the opening of the engine throttle at first and then opens it up as you press further, so more torque is delivered efficiently.

It lowers the standard running gears on the transmission to deliver more power to the engine.

X-Mode raises the coupling force of the symmetrical all-wheel-drive system, increasing power during turns.

It impacts the vehicle dynamics control system by applying torque and braking power to individual slipping wheels when needed. This increase does not decrease the torque or braking power on the other wheels when it increases them on slipping wheels.

X-Mode maintains a safe maneuvering speed when your Solterra moves downhill at 12 mph or less.
Additionally, the battery core of the 2023 Subaru Solterra Premium grants 228 miles of range on a single charge. A DC fast charging unit will take the battery from dead to 80% in under an hour.
The Limited Trim Level
The pile of standard features at the Limited trim level for the 2023 Subaru Solterra is quite large.
It features comfortable StarTex-trimmed upholstery to reduce the solar heat, which is a common problem with natural leather, so you won't get burned when you sit down.

The trim comes with heated seats in the front and rear and a heated steering wheel. Along with the heating unit, you're sure to stay toasty even during the coldest of American winters.

This trim's infotainment system features a 12.3-inch screen, and it is compatible with Apple CarPlay and Android Auto.

The Limited trim's GPS is cloud-based with voice assistance capability, so you can control it without taking your hands off the wheel. The cloud aspect means it is far more accurate than most GPS apps, granting information in real-time.

The Limited trim comes with a fantastic set of 12 high-performance Harmon-Kardon speakers and a multi-channel digital signal processor. That means your music will come through with incredible clarity and fidelity.
Additionally, you can fit the center console with a wireless charging dock, but other DC outlets are available for you to use.
The Touring Trim Level
The Touring is the top trim level for the 2023 Subaru Solterra, and it's an impressive piece of SUV engineering.
The wheels get upgraded to 20-inch versions.

The improved interior lighting is now at a high-tech level, allowing the driver to set the mood.

This trim includes heated and ventilated seats. That means you can have greater climate control.

The roof is a large sunshade that you can retract to reveal the glass roof.

The trim's rear-view mirror is auto-dimming, and its exterior paint can be one- or two-tone.
The Touring is the best trim level in terms of off-road capability. It might seem odd that an electric SUV can handle off-road driving, but Subaru has increased its SUV's core power to match its gas-fueled counterparts. The 2023 Subaru Solterra Touring will amaze you with its off-road responsiveness and trail-conquering capabilities. The AWD system grants 8.3 inches of ground clearance, and the bumper-to-wheel well cladding mentioned earlier also functions as protection from rocks you might kick up during off-road driving. You won't have to patch up your paint job as much with the new 2023 Subaru Solterra Touring.
The Touring's suspension system can specifically handle off-roading, and it lifts the vehicle by two more inches for greater ground clearance. This version of the Solterra makes the run from zero to 60 in 6.3 seconds. That is particularly impressive for an electric off-road capable SUV of this class.
The Touring has an automatic pre-collision braking system, optimizes cruise control, and Subaru's EyeSight Driver Assistance Technology. This tech will monitor you and the position of your Solterra as you drive. If the SUV dips into a lane unexpectedly, the system will warn you so you can safely steer your vehicle.
Our team at Huffines Subaru Corinth in Corinth, Texas, can help you find out more about this impressive and capable sport utility vehicle. We will gladly answer all your questions and guide you through customizing your Solterra until it is perfect for you. Feel free to
contact us
for more information on these trim levels or browse our
new Subaru inventory
.