The 2021 Subaru Love Promise Customer and Community Commitment Award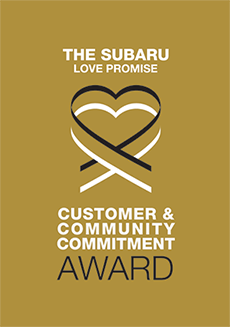 We've been nationally recognized for our dedication to our customers, our community, and the Subaru Love Promise.
We're honored to receive the 2021 Subaru Love Promise Customer and Community Commitment Award. This award nationally recognizes elite Subaru retailers who provide an exceptional customer experience at every interaction with Subaru. These retailers have also demonstrated an outstanding commitment to supporting passions and causes in their local communities in important areas such as the environment, community, health, education, and pets.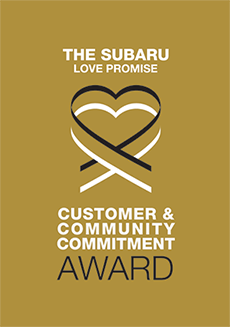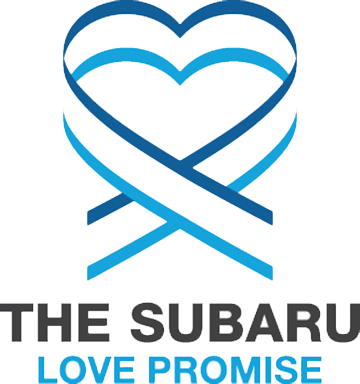 What is the Subaru Love Promise?
Subaru and our retailers believe in making the world a better place and the Subaru Love Promise is our vision of respecting all people. This is our commitment to show love and respect to our customers and to work to make a positive impact in the world.
How is Huffines Subaru Corinth dedicated locally to the Love Promise?
Huffines Subaru Corinth is dedicated to the prosperity of our community. We don't have customers we have an "extended family." They are what makes it possible for us to contribute to local charitable organizations and educational institutions - to better the future of our children. Huffines Subaru's main focus is to give back to our community and "Share the Love". All of us at Huffines Subaru want to say thank you to our customers, without you our contributions would not be possible nor would our success. We would also like to thank all of our community leaders. You are the reason we Love what we do.
Denton High School, Braswell High School, Denton Ryan High school, University Of North Texas
Love Promise Stories from Huffines Subaru Corinth
Subaru and Huffines Subaru Corinth believe in making a positive impact on the communities in which we live and work. We uphold that belief through our Love Promise Community Commitment. Every month, we select inspiring stories from customers and partners from around our area who strive to support our collective commitment and feature them here
Share the Love Blankets Making a Difference - Tyheshia S
Giving Hope, Inc. is a non-profit in Denton County that serves those experiencing homelessness and those at risk of homelessness. We are so blessed to have community partners like Huffines Subaru, whose generosity makes it possible to meet an ever increasing need and ensuring none are forgotten. The year 2020 and the onset of COVID-19 has brought about changes that no one could have expected. We usually receive around 600 requests in an 8-month period of time, but this year we received over 2100 requests for assistance. This led to a strain on the resources available countywide. We were challenged to continue to help those in need prior to the pandemic and also meet the needs of a new population that had never required assistance before. What we saw early on was that it would take a community effort to recover from the impact of COVID-19. Even in the midst of the pandemic, our Street Outreach Team has been going into encampments throughout the City of Denton to provide those experiencing homelessness with personal protective equipment to reduce the spread of COVID-19. Huffines Subaru's donation to our Street Outreach Team could not have come at a better time. We are facing a cold front and scientists are saying that the presence of respiratory infections may make you more susceptible to COVID-19. Keeping our clients that are unsheltered warm and dry is paramount during this time. So the blankets provided by Huffines Subaru will go very far in helping us keep valued members of our community safe from the spread of COVID-19. For more information on our Street Outreach Program please visit hopeincdenton.com/street-outreach/
---
Art Supplies for Borman Elementary - Kelley M
We have been so blessed by Anthony Reich and his team at Huffines Subaru Corinth. The Subaru Love Promise donation for our school, Frank Borman Elementary in Denton, TX, has helped supply our entire 4th and 5th-grade students with colored pencils for their individual art supply kits. In this time of uncertainty and emphasis on safety protocols, our district art teachers were tasked to build individual art supply kits for each student. With our typical budget, art teachers usually purchase one class set or items in bulk to share for art class. Safety protocols say that we shouldn't be sharing supplies this year, instead building individual art kits for each child. Buying individual supplies goes from purchasing one class set that comes with 36 items to needing 450 of each supply. Basically, we had to multiple our supplies without multiplying our budget. The community came to our amazing student-artists aid and we had most of the items for our artists to start learning this year. We were struggling to fund colored pencils for our students since they are around $5.00 a piece. We needed 100 colored pencil sets to cover our two grade levels. At close to $500, we were going to have to make it through the year without them. After reaching out to Anthony, he was quick to say he could help us fill our need. Huffines Subaru Corinth purchased all 100 colored pencil sets for our kids. Now we can create art using more than just pencils and crayons. We are able to add another supply to our art kits for our oldest artists. Colored pencils are such an important tool for older students to create visual art that is impactful and using a more advanced material. As the art teacher, I am so blessed by the donation and program. I has elevated the stress of finding the funds to purchase these supplies. Not only did Subaru purchase the sets of colored pencils, but they were 24 pack erasable colored pencils. These colored pencils will last for our students to make art into the future. Thank you for seeing the importance of art education, creativity, and supporting our students in this challenging time. Thank you, Subaru and Anthony for making our learning a possibility! We are so grateful and can't wait to get creating!
---
Welcome to the family! - Erin M
My decision to buy a Subaru was based off of recommendation for a quality, safe vehicle. What I did not realize was that buying a Subaru is not like buying any other car. When you buy a Subaru, you are buying into a family! My experience at Huffines Subaru Corinth was like no other car buying experience (and I have bought A LOT of cars). Their commitment to the Subaru "experience" is incredible! With times being what they are, with social distancing, the employees at Huffines still made the experience very personal! Interacting with Tom, Joey, James and Austin was so professional but also like working with true friends that have your back! I also had the pleasure of working with the manager, Anthony. It is very clear that he leads by example and it reflects in his employees! I love my car and am so proud to be a part of the Subaru family! I even got a badge for it! The best part is that the relationship doesn't end at the close of the sale! Just like family, they are there for you when you need them! Subaru and Huffines definitely show the love!!
---
Paws 4 a Cause - Amber L
"My name is Amber Lynn and I am the Senior Admin of Subaru Ladies, an international all female car club. Every year we get together and host an event called Paws 4 a Cause for charity to raise money, goods and awareness for local no-kill animal shelters around the United States. We strive every year to have a bigger, better event than the last and to raise more money for the animal shelter. Teaming up with Huffines Subaru of Corinth allowed us to do just that this year. Huffines has a wonderful, welcoming team that goes above and beyond to help everyone who steps foot on their property. Huffines Subaru of Corinth is my number one choice and I am a Huffines Brat!" Back in 2015, Katie Abshier wanted to get the group of animal loving, Subaru loving ladies together to give back to the community by helping no-kill animal shelters. Subaru Loves Pets and has been donating to the ASPCA for years, and they wanted to do the same thing but help out the shelters that do the most to make sure animals aren't put down just because they weren't adopted within 72 hours. Subaru Ladies 1st annual event started in Sacramento, California in 2015 where the group helped out Wags & Whiskers Rescue. They were able to raise over $500 and bring a car load of dog and cat food, beds, cleaning supplies and much more to the animal shelter. This year, for their 5th annual event, Huffines Subaru of Corinth hosted the group and honored Easy Street Shelter in St Jo, Texas. Huffines Subaru also donated $1000 to their cause. Together they raised $1,900 worth of funds and supplies.
---
Supporting Lake Dallas Educaiton - Tina H
August, for North Texas, means back-to-school for nearly 4,000 students and 300 teachers in Lake Dallas ISD. Huffines Subaru Corinth's General Manager, Robert Goodwin, has been a long-time member of the Lake Cities Chamber of Commerce (going on 10 years) and the dealership has consistently been active in supporting the district's Adopt-a-Teacher program for the last 5 years. This year, with a move to a new building (less than a mile from Lake Dallas High School), Huffines Subaru has doubled-down on their commitment to the Subaru Loves Learning initiative and their support for local education. This year, the dealership donated $1000 to the Adopt-a-Teacher program. This fund was started by the Lake Cities Chamber of Commerce 20 years ago and helps support the districts 75 new teachers and paraprofessionals in getting desperately needed supplies for their classrooms. Teachers are asked during their training to create a wish-list of items that will help them and their students. The Chamber then uses the funds raised to get as many of these supplies as possible. Huffines Subaru didn't stop there though! Recognizing that financial support for extracurricular activities is increasingly needed from outside sources, the dealership has also made donations this month directly to these programs. They made a $500 donation to the Lake Dallas High School Highsteppers and $1000 to the Lake Dallas High School Band. Huffines Subaru will further be supporting the districts education efforts in November at the Lake Cities Education Foundation Gala where they will be donating an additional $1200 toward teacher grants and student scholarships.
---
Huffines Subaru Corinth Shines on Bell Elementary - Kelley P
One bright and sunny day in Little Elm Texas there was an Elementary school that had had a wonderful day! The day had come to an end and our brave teachers were sent out on their missions of crosswalk duty and car line! While the brave teachers were outside the mighty sun beat down on them. The teachers cried "Dude! Mr. Sun! That's some bright light you've got there! Could you tone it down during duty though, please?" The Mighty Sun said "Ha! This is Texas! I can shine bright and hot on whoever I want! What are you going to do about it?" The teachers were at a loss! They had lost their eye shields (sun glasses) while they were basking in the relaxing summer break (working a second job during the summer) and were unable to find them again. Doo do do dooooo! Huffines Subaru Corinth heard the perils of the fantastic brave teachers and said, " Why I can save the day! I shall bring new eye shields (sun glasses) for all!" Bell Elementary Teachers and Staff were so grateful of Huffines Subaru Corinth! "You're our Hero!"Huffines Subaru Corinth takes any oppertunity to lend a hand to the schools around them. This is truely and community supporter that is valued and appreciated. Thank you, Huffines Subaru Corinth
---
Grateful Mom - Unable to say U
In August 2019 Huffines Subaru in Corinth partnered with Arms of Hope to help a single mother and her one year old find a safe and reliable car. Arms of Hope helps motivated single mothers and their children transition into successful, independent futures by providing parenting skills, career training, and a home in a peaceful and safe environment. Our client had a series of unfortunate events: she was in a car wreck and out of desperation bought a car off of facebook and ended up getting scammed. She was sold a cash car with a fake title that had a lot of mechanical issues. We looked into how to get a title for the car but ran into many roadblocks. After many trips to the mechanic and the car being repossessed due to an unpaid loan from the previous owner, we were back to looking for a car. Arms of Hope reached out to Anthony Simmonds at Huffines Subaru Corinth and he helped us find an affordable and reliable vehicle for the family in need. We are very thankful for our partnership with Huffines Subaru Corinth and for support and compassion for our Arms of Hope families and those in need. Thank you, Arms of Hope.
---
Huffines Subaru Cares for Cancer Survivor - Elaine H
Elaine Haught and Otis Jackson had fallen on hard times. In the heat of the Texas summer they made the long drive to the Texas Oncology Center in Denton, all the way from their home in Pilot Point. Their A/C unit in their car had broken, making the nearly 30-mile trip seem all that much longer.The couple discussed several options to fix the damaged unit. Unfortunately, because of the medical costs associated with Mrs. Haught's treatment, they could not afford the $1,500 repair that they needed. They eventually let it go. As temperatures hovered near the 100-degree mark, they continued to press on. On June 19, 2019 Elaine was receiving yet another round of chemo treatment when Huffines Subaru Corinth visited the center to deliver blankets from the Leukemia and Lymphoma Society as part of Subaru Loves to Care. That was when Elaine and Otis met Les Hickman from the Huffines Subaru Parts Department. He gave them their blanket and gifts, and sat with them for a while to chat. Many Subaru customers had written notes of encouragement to the patients, and Elaine was particularly touched by a note from a child named "Josh" who supplied a card offering for one free hug. Les was more than happy to stand in for Josh and make sure that Elaine got that free hug. The gesture moved her to tears. But Les wanted to do more. He was horrified to learn about the conditions Elaine and Otis had to endure just to make it out to get treatment. Les met with Anthony Reich, General Sales Manager for Huffines Subaru, to find out if there was anything they could do to help. Huffines has been built on two major pillars: "Treat the customer the way they want to be treated" and "Support the local community." Inspired by the Subaru Love Promise and the Huffines values, Anthony and Les saw an opportunity to really 'wow' a member of the community. Anthony got in touch with the office manager of Texas Oncology to give Elaine his cell phone to get in touch and offered to repair their car's air conditioning and have it detailed free of charge. The following Wednesday, Elaine and Otis drove away from Huffines Subaru Corinth with windows up and cool air blowing and Huffines Subaru knew they had made friends for life. That Friday, Elaine had her final round of chemo. She will have six months of maintenance treatments, but is otherwise declared cancer free.
---
Huffines Subaru Blanket Delivery 2019 - Renita S
The Leukemia and Lymphoma Society of North Texas had the amazing pleasure to partner together with Huffines Subaru on June 19 for their Subaru Loves to Care Program. As one of 8 neighborhood retailers, Huffines delivered 80 blankets and 30 arts and crafts kits to Texas Oncology-Denton South, while also conveying hope, warmth, and uplifting words of encouragement to those currently being treated and battling for their lives. Each blanket came along with a personal note of hope written by the customers and staff of Huffines that the patients absolutely loved reading. Huffines went above and beyond by making goodie bags along with the blankets and arts kits consisting of cups, pencils and other little gifts. The Subaru staff personally handed out these blankets and chatted for a few minutes getting to know each patient. One couple in particular told the dealership how their car's A/C was broken from normal wear and tear, making trips for treatment difficult especially in the Texas heat. Huffines was generous enough to offer to fix their car at no cost. It is amazing how something as simple as delivering blankets can make such a huge difference for a family! The Leukemia and Lymphoma Society of North Texas is beyond appreciative for the kindness and commitment of Huffines Subaru not only for our mission but also to those in our local community. Seeing the joy on patients' faces as the blankets were personally delivered was extremely rewarding and heartwarming. We are honored to collaborate with an organization that offers back to the absolute most meriting individuals and carries light to the darkness of a cancer diagnosis.
---
Partners in Service - Priscilla S
This June, Huffines Subaru Corinth was excited to celebrate the signing of a 3-year agreement with Serve Denton as their charity partner for Subaru's Share the Love Event. For the past 3 years Huffines Subaru has worked with Serve Denton as part of Share the Love, and donated over $90,000 toward helping support their facility and mission to provide one-stop access to community support. From 2019-2022 Huffines Subaru Corinth has committed to donating a further $125,000 to the facilities. On June 12, 2019, Serve Denton gave Huffines Subaru employees a tour of the new center (due to open fully by the end of August) including the 'Huffines Subaru Classroom': a 667 sq. ft room complete with Smart Board, media displays, and seating configurations for 24 to 60-person class arrangements. "Part of our core values is giving back to our community. It's a value the J.L. Huffines Sr. set forth [in] 1924 when he started this business. So, we want to relay to our team members how we do that, and how we support our community. One of the major ways is our relationship with Serve Denton and through the Share the Love Campaign with Subaru."- Robert Goodwin, General Manager of Huffines Kia Subaru Corinth Currently, the Serve Denton Center is home to 11 nonprofit partners that provide assistance for addiction recovery, youth and family counseling, women's support, veterans' support, and mental health treatment. By completion, the center will also have a medical facility as part of Health Services of North Texas, the Children's Advocacy Center, and the Denton Community Food Center. The new facilities expect to serve over 16,000 people in the first year. The Medical Center will provide medical care, counseling, prescription, and nutrition services for those in need in the community. It is a 7500 sq. ft facility with 12 exam rooms and a minor procedure room with a fully paid staff of medical professionals. The Medical Center will also be connected to the Children's Advocacy Center. The proximity of these facilities will be an invaluable asset to providing care to abused children. Having police, CPS and medical care in a single building will allow children to only have to recount incidents a single time, and in complete privacy. The Children's Advocacy Center will have 10 therapy rooms, 18 therapists, and 4 private waiting rooms with on-sight childcare. It will also host satellite offices for the DA, CPS, and the Denton County Sheriff's Office. Just outside of the main Serve Denton Center is the Denton Community Food Center. This 10,000 sq. ft building includes a 600 sq. ft. freezer and can hold up to 3-4 weeks of food at a time. Persons in need will be able to come to the reception area of the food center and check off the items that they need from a check list, and have those items picked out and brought directly to them. Huffines Subaru is thrilled to be a part of this project! They started working with Serve Denton when they built a butterfly garden at the Wheeler House back in 2015, and this 3-year plan only strengthens that bond and commitment to helping the community grow. "We are so grateful for the support we have had from Huffines Subaru's team over the years, and look forward to continuing to do that in the future" – Pat Smith, Founder and CEO of Serve Denton
---
Building a Better Future for Country Dogs - Cindy C
Terry Fender initially made his way to the Huffines Subaru Corinth to look for a new car; and ended up driving away with a new Forester and a new partnership. He is a board member for Easy Street Animal Shelter in St. Jo, Texas, and when Huffines Subaru learned that they were raising money to build isolation kennels for the shelter, they were ready to help! On June 25th Huffines Subaru team members, Brent Kelly and April Sumner, drove out to Blue Ostrich Winery and Vineyard to participate in the shelter's Pasta, Wine, and Wags charity dinner to raise the funds needed to complete phase 3 of the structure. The construction of the kennel is meant to be completed in September. It will be used as an intake kennel for new dogs that need to be vaccinated and medically cleared before they can be allowed in general population. The structure has 3 indoor/outdoor climate controlled kennels, a bathing station, and also has a nursery for mother dogs and their pups. The final push for funding will help complete the interior of the building. Montague County does not have its own shelter program. There are only three shelters covering nearly 1000 square miles: one that only accepts dogs within the city limits of Bowie, and two more that can only take in when there is space available. Huffines Subaru was proud to be able to help Easy Street expand their no-kill shelter facilities, saving the lives of many more country dogs and helping them get healthy so they may find new forever-homes.
---
Helping the Community Support Each Other - Linda M
St. Francis of Assisi is one of the largest Catholic Churches in North Texas, and frequently works in and around the region to promote community involvement and faith outreach. They have been praised as "Best Place to Worship – 2013" by Frisco Style Magazine and "#1 Place to Worship – 2015" by the Local Media Reader's Choice Awards. On June 8, 2019 Huffines Subaru helped sponsor their Golf Tournament to raise money for ACTS (Adoration, Community, Theology, and Service), a Catholic Retreat that encourages acts of service and community. The St. Francis Outreach Ministry is active in supporting several projects around DFW, including AIDS outreach, Clothe a Child, and substance abuse programs. Representatives from Huffines Subaru attended the event and provided a donation to help support their ministry. The ACTS program, and others like it, are helpful in promoting community engagement and service initiatives. Huffines Subaru is enthusiastic in supporting the local organizations, both large and small, in continuing to share the love and pay their support forward. "I reached out to Huffines Subaru to sponsor my Charity Golf Tournament; and not only were they happy to sponsor, they also donated several items for our Raffle. Everyone loved the Ascent that was brought to the course. As usual, Huffines went above and beyond what was asked of them.Thank you so much!" - Linda Mason
---
Huffines Subaru Honors Our First Responders - Caitlan B
On January 17, 2017 the Town of Little Elm, Texas found itself in mourning. Detective Jerry Walker, of the Little Elm Police Department,responded to a disturbance involving an armed individual and became the department's first officer to lose his life in the line of duty. Detective Walker had spent 19 years with the department, was an Army veteran, a father of four, and a friend to the community. His loss was felt across North Texas. Shortly after this tragic loss, the community began to discuss ways to honor Detective Walker, and show appreciation for our first responders. Huffines Subaru was eager to partner with the Town of Little Elm in sponsoring a park dedicated to those that protect and serve our community. The Little Elm Public Safety Honor Park had its official ribbon cutting ceremony on May 15, 2019. Huffines Subaru attended the event and the presentation of the pavilion that they sponsored. "We are honored to have helped make this possible, and hope that this park encourages the community to share the love and appreciate our local heroes for all that they do for us." – Anthony Reich, General Sales Manager, Huffines Subaru The park will host annual events for Police Week during May,and also serve as a sight for recognizing veterans and first responders on days such as Memorial Day and September 11th.
---
Huffines Subaru Shares the Love With Serve Denton - Ian H
Huffines Subaru selected Serve Denton as its local charity for the 2018 Share the Love campaign, which resulted in a gift of $38,585 for Serve Denton. Huffines Subaru's support has helped Serve Denton expand to become one of the largest nonprofit centers in Texas, now over 48,000 sq/ft. Serve Denton was able to welcome three new nonprofit partners to the Serve Denton Center in the last year: Health Services of North Texas, Children's Advocacy Center for Denton County and Denton Community Food Center. These nonprofits will join the Serve Denton Center in the Summer and Fall of 2019. Giving Hope, Inc. has also begun to the office at the Serve Denton Center. Their organization currently manages the transitional housing facility at The Wheeler House, which is another Serve Denton project. Giving Hope, Inc. is now able to host a program at the Serve Denton Center called The Road Home that is designed to help those who are homeless deal with the trauma they have experienced in their life. Not only is the Serve Denton Center expanding, but so is The Wheeler House. Grace Like Rain will soon be operating an emergency shelter at The Wheeler House for moms and their kids. We are thankful for Huffines Subaru's support of Serve Denton and their involvement in our mission to partner with nonprofits to help make their services more accessible.
---
Huffines Subaru Supports Denton Bike Rally - Jack B
Huffines Subaru participated as a sponsor for the 38th annual Denton Breakfast Kiwanis Turkey Roll Bicycle Rally in November. The profits from this bike rally goes toward helping the Denton Breakfast Kiwanis Foundation. The Denton Breakfast Kiwanis Foundation is an organization that supports Kiwanis family clubs at a few local high schools, UNT, the Denton State Assisted Living Center, and the DBK Tiny Libraries Project. There were over 839 registered riders at this rally and about 135 volunteers.
---
Subaru Supports Flower Mound PD Santa Cops Program - Joni W
Huffines Subaru Corinth had the incredible opportunity to support the Flower Mound Police Department's 2018 Santa Cops program in October. The Flower Mound Police Department (FMPD) and the Flower Mound Citizen Police Academy Alumni Association (FMCPAAA) held a casino night fundraiser event to collect donations and gifts for the Santa Cops program. Each year FMPD and FMCPAAA collect gifts and donations to distribute at Christmas to children in Flower Mound that might have otherwise not received a gift from Santa. Santa Cops is designed to be an outlet for those that want to make Christmas brighter for a child as well as a positive interaction between the FMPD and those children that might perceive law enforcement in a negative light. Huffines Subaru had the privilege to sponsor a gaming table as well as donate items for the silent auction and raffle.
---
Subaru Brings Warmth to Cancer Patients - Alyssa W
At the end of June, Huffines Subaru joined forces with The Leukemia & Lymphoma Society (LLS) of North Texas to bring warmth and hope to children battling cancer at Cook Children's Hospital. Subaru donated 80 blankets and more than 30 arts & craft kits to the children being treated at the hospital. We were greeted by Ralph the therapy dog who was happy to pose for a picture with the blankets that would soon put a smile on his patients' faces. Subaru supports the Leukemia & Lymphoma Society in their mission to cure leukemia, lymphoma, Hodgkin's disease, and myeloma, and to improve the quality of life of patients and their families. LLS and patients across the country thank Huffines Subaru for their generosity towards our community! Because of you, our patients feel supported through their treatment and in survivorship. Thank you, Huffines Subaru!
---
Subaru and NWF Love the Earth! - Janet M
Through the generous donation of Subaru dealerships, our academy has been able to further develop our prayer garden, which also has a Certified Wildlife Habitat.
---
Huffines Subaru Shares the Love - Brooke H
Huffines Subaru has supported Serve Denton since 2015. Their management and employees started off by volunteering at the Denton Mobile Pantry, a free monthly food pantry with Tarrant Area Food Bank and Denton Hunger Coalition that takes place in the Serve Denton parking lot. Their employees also partnered with members from Texas Woman's University to build a professionally designed butterfly garden at The Wheeler House, a Serve Denton project. The Wheeler House is a transitional housing facility for moms and their kids in a housing crisis managed by Giving Hope, Inc. and an affordable health clinic managed by Health Services of North Texas. The butterfly garden will become a teaching and learning garden for the children living at The Wheeler House and will help promote the national campaign to expand suitable habitats for butterflies along the I-35 corridor between Mexico and Canada. Texas native plant gardens support the butterflies as they undertake their annual migration by proving milkweed plants for their caterpillars to eat. The other native flowering plants provide nectar, which sustain the adult butterflies as well as support the bees and birds. After their national conference, Subaru donated items, which are now being used in the office, classroom and play therapy rooms used by our 11 nonprofit tenant agencies. Huffines Subaru chose Serve Denton as the local charity for their 2016 Share the Love campaign, which resulted in a check for $35,000 for Serve Denton.
---
Jerry Walker Benefit - Anthony R
On February 21, 2017, we organized a Benefit for Jerry Walker at the Frisco Gun Club. For an entry fee of a donation people received free lanes and got to play battleship challenges with local police officers. We also had a raffle drawing to win a Sig Saur 1911R .45 Tacops, which was won by Bob Brackes, the Service Director from Huffines Plano. We were able to raise a total of $3,400 for the family of Jerry Walker.
---
Canine Companions for Independece - Anthony R
January 28, 2017, we had volunteer trainers and puppies in training from Canine Companions for Independence visit our dealership for our Pooches and Smooches Event. Canine Companions for Independence is a non-profit organization that provides highly trained assistance dogs to individuals with disabilities. If you are interested in becoming a puppy raiser or are interested in volunteering, you can call 1-800-572-BARK or visit cci.org.
---
Spirit Horse Therapeutic - Anthony R
SpiritHorse visited Huffines Subaru on November 29th to take part in the store's annual Subaru Share the Love event. During the event, Spirit Horse brought some of their horses to the store to help expose customers to their mission. SpiritHorse Therapeutic provides free therapeutic horseback riding services to over 450 children and adults from ten counties in the Greater Dallas/Fort Worth Metroplex each week at their facilities in Corinth, just north of Dallas, Texas. They serve more children than any other center in the world. Their mission is, "To Assist Each Child with Special Needs in Reaching Their Full Potential through Interaction with Horses.
---
Huffines Subaru Denton Supports SpiritHorse Therapeutic Riding Center - Jennifer M
SpiritHorse Therapeutic Riding Center is a non profit organization that provides completely free therapy through horse riding lessons for children who suffer from any type of development delay, cognitive disability, and physical handicaps. They get most of their funding money through events they host throughout the year and donations from local businesses and residents in our community. They recently came to our store and brought Max the Pony to interact with some of our customers...
---
Turkey Roll Bicycle Rally - Jack B
Denton Kiwanis Club hosts an annual cycling race (Turkey Roll Bicycle Rally). All proceeds go towards local charities that they raise money for. This year Subaru had the privilege of coming out to the race and sponsoring this event. We were very honored to partner up with this phenomenal organization that does so much for our community.
---