The 2021 Subaru Love Promise Customer and Community Commitment Award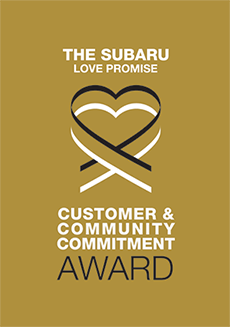 We've been nationally recognized for our dedication to our customers, our community, and the Subaru Love Promise.
We're honored to receive the 2021 Subaru Love Promise Customer and Community Commitment Award. This award nationally recognizes elite Subaru retailers who provide an exceptional customer experience at every interaction with Subaru. These retailers have also demonstrated an outstanding commitment to supporting passions and causes in their local communities in important areas such as the environment, community, health, education, and pets.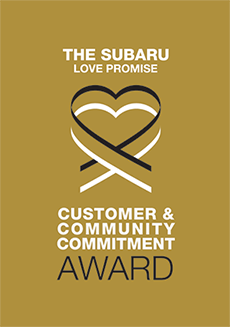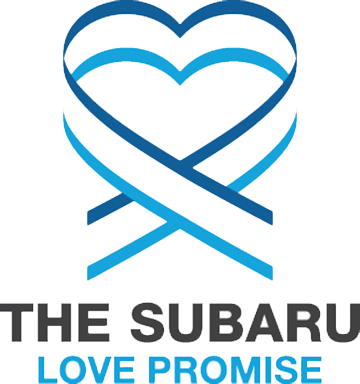 What is the Subaru Love Promise?
Subaru and our retailers believe in making the world a better place and the Subaru Love Promise is our vision of respecting all people. This is our commitment to show love and respect to our customers and to work to make a positive impact in the world.
How is Huffines Subaru Corinth dedicated locally to the Love Promise?
Huffines Subaru Corinth is dedicated to the prosperity of our community. We don't have customers we have an "extended family." They are what makes it possible for us to contribute to local charitable organizations and educational institutions - to better the future of our children. Huffines Subaru's main focus is to give back to our community and "Share the Love". All of us at Huffines Subaru want to say thank you to our customers, without you our contributions would not be possible nor would our success. We would also like to thank all of our community leaders. You are the reason we Love what we do.
Denton High School, Braswell High School, Denton Ryan High school, University Of North Texas
Love Promise Stories from Huffines Subaru Corinth
Subaru and Huffines Subaru Corinth believe in making a positive impact on the communities in which we live and work. We uphold that belief through our Love Promise Community Commitment. Every month, we select inspiring stories from customers and partners from around our area who strive to support our collective commitment and feature them here
Subaru Loves Pets Event - Therese H
The Little Elm Animal Shelter partnered with Subaru of Corinth for the Subaru Loves Pets Event this year and our customers loved it! They were happy when they found out that their adoption fee was paid for and even more excited to get the Subaru car toy! Subaru made this event pretty easy and many of our adopters actually gave donations in place of their adoption fees, which always helps us. Thank you Subaru! Can't wait til next year.
---
Dog Days of Denton - Stephanie L
The Denton Parks Foundation would like to say THANK YOU to Anthony Reich and his team at Huffines Subaru, Corinth for their continued support of the annual Dog Days of Denton event! Their Ballroom sponsorship was a huge hit with the dogs, allowing them to play off leash in a miniature dog park. With their sponsorship and support, we are one step closer to our goal of adding an additional shade structure at the North Lakes Dog Park. James and Robert, with Huffines, also took part in the event, handing out promo items to our many community members who attended. Thank you again for your support in helping us continue our mission of Uniting People over Parks!
---
A continued partnership - Jordan H
For the 2021-2022 school year, Huffines Subaru has continued to support the students and teachers of Borman Elementary. This year Anthony Reich and his team helped 6 teachers receive $500 each and also collected generous donations of additional school supplies needed in the classroom. Our teachers will be able to use their funds to purchase items that promote both deep levels of student learning and foster high levels of student engagement. Our community is so honored by the commitment and generosity of Huffines Subaru. Thank you for the continued support and the meaningful way it allows us to support our students!
---
Share the Love Blankets Making a Difference - Tyheshia S
Giving Hope, Inc. is a non-profit in Denton County that serves those experiencing homelessness and those at risk of homelessness. We are so blessed to have community partners like Huffines Subaru, whose generosity makes it possible to meet an ever increasing need and ensuring none are forgotten. The year 2020 and the onset of COVID-19 has brought about changes that no one could have expected. We usually receive around 600 requests in an 8-month period of time, but this year we received over 2100 requests for assistance. This led to a strain on the resources available countywide. We were challenged to continue to help those in need prior to the pandemic and also meet the needs of a new population that had never required assistance before. What we saw early on was that it would take a community effort to recover from the impact of COVID-19. Even in the midst of the pandemic, our Street Outreach Team has been going into encampments throughout the City of Denton to provide those experiencing homelessness with personal protective equipment to reduce the spread of COVID-19. Huffines Subaru's donation to our Street Outreach Team could not have come at a better time. We are facing a cold front and scientists are saying that the presence of respiratory infections may make you more susceptible to COVID-19. Keeping our clients that are unsheltered warm and dry is paramount during this time. So the blankets provided by Huffines Subaru will go very far in helping us keep valued members of our community safe from the spread of COVID-19. For more information on our Street Outreach Program please visit hopeincdenton.com/street-outreach/
---
Art Supplies for Borman Elementary - Kelley M
We have been so blessed by Anthony Reich and his team at Huffines Subaru Corinth. The Subaru Love Promise donation for our school, Frank Borman Elementary in Denton, TX, has helped supply our entire 4th and 5th-grade students with colored pencils for their individual art supply kits. In this time of uncertainty and emphasis on safety protocols, our district art teachers were tasked to build individual art supply kits for each student. With our typical budget, art teachers usually purchase one class set or items in bulk to share for art class. Safety protocols say that we shouldn't be sharing supplies this year, instead building individual art kits for each child. Buying individual supplies goes from purchasing one class set that comes with 36 items to needing 450 of each supply. Basically, we had to multiple our supplies without multiplying our budget. The community came to our amazing student-artists aid and we had most of the items for our artists to start learning this year. We were struggling to fund colored pencils for our students since they are around $5.00 a piece. We needed 100 colored pencil sets to cover our two grade levels. At close to $500, we were going to have to make it through the year without them. After reaching out to Anthony, he was quick to say he could help us fill our need. Huffines Subaru Corinth purchased all 100 colored pencil sets for our kids. Now we can create art using more than just pencils and crayons. We are able to add another supply to our art kits for our oldest artists. Colored pencils are such an important tool for older students to create visual art that is impactful and using a more advanced material. As the art teacher, I am so blessed by the donation and program. I has elevated the stress of finding the funds to purchase these supplies. Not only did Subaru purchase the sets of colored pencils, but they were 24 pack erasable colored pencils. These colored pencils will last for our students to make art into the future. Thank you for seeing the importance of art education, creativity, and supporting our students in this challenging time. Thank you, Subaru and Anthony for making our learning a possibility! We are so grateful and can't wait to get creating!
---
Welcome to the family! - Erin M
My decision to buy a Subaru was based off of recommendation for a quality, safe vehicle. What I did not realize was that buying a Subaru is not like buying any other car. When you buy a Subaru, you are buying into a family! My experience at Huffines Subaru Corinth was like no other car buying experience (and I have bought A LOT of cars). Their commitment to the Subaru "experience" is incredible! With times being what they are, with social distancing, the employees at Huffines still made the experience very personal! Interacting with Tom, Joey, James and Austin was so professional but also like working with true friends that have your back! I also had the pleasure of working with the manager, Anthony. It is very clear that he leads by example and it reflects in his employees! I love my car and am so proud to be a part of the Subaru family! I even got a badge for it! The best part is that the relationship doesn't end at the close of the sale! Just like family, they are there for you when you need them! Subaru and Huffines definitely show the love!!
---
Paws 4 a Cause - Amber L
"My name is Amber Lynn and I am the Senior Admin of Subaru Ladies, an international all female car club. Every year we get together and host an event called Paws 4 a Cause for charity to raise money, goods and awareness for local no-kill animal shelters around the United States. We strive every year to have a bigger, better event than the last and to raise more money for the animal shelter. Teaming up with Huffines Subaru of Corinth allowed us to do just that this year. Huffines has a wonderful, welcoming team that goes above and beyond to help everyone who steps foot on their property. Huffines Subaru of Corinth is my number one choice and I am a Huffines Brat!" Back in 2015, Katie Abshier wanted to get the group of animal loving, Subaru loving ladies together to give back to the community by helping no-kill animal shelters. Subaru Loves Pets and has been donating to the ASPCA for years, and they wanted to do the same thing but help out the shelters that do the most to make sure animals aren't put down just because they weren't adopted within 72 hours. Subaru Ladies 1st annual event started in Sacramento, California in 2015 where the group helped out Wags & Whiskers Rescue. They were able to raise over $500 and bring a car load of dog and cat food, beds, cleaning supplies and much more to the animal shelter. This year, for their 5th annual event, Huffines Subaru of Corinth hosted the group and honored Easy Street Shelter in St Jo, Texas. Huffines Subaru also donated $1000 to their cause. Together they raised $1,900 worth of funds and supplies.
---
Supporting Lake Dallas Educaiton - Tina H
August, for North Texas, means back-to-school for nearly 4,000 students and 300 teachers in Lake Dallas ISD. Huffines Subaru Corinth's General Manager, Robert Goodwin, has been a long-time member of the Lake Cities Chamber of Commerce (going on 10 years) and the dealership has consistently been active in supporting the district's Adopt-a-Teacher program for the last 5 years. This year, with a move to a new building (less than a mile from Lake Dallas High School), Huffines Subaru has doubled-down on their commitment to the Subaru Loves Learning initiative and their support for local education. This year, the dealership donated $1000 to the Adopt-a-Teacher program. This fund was started by the Lake Cities Chamber of Commerce 20 years ago and helps support the districts 75 new teachers and paraprofessionals in getting desperately needed supplies for their classrooms. Teachers are asked during their training to create a wish-list of items that will help them and their students. The Chamber then uses the funds raised to get as many of these supplies as possible. Huffines Subaru didn't stop there though! Recognizing that financial support for extracurricular activities is increasingly needed from outside sources, the dealership has also made donations this month directly to these programs. They made a $500 donation to the Lake Dallas High School Highsteppers and $1000 to the Lake Dallas High School Band. Huffines Subaru will further be supporting the districts education efforts in November at the Lake Cities Education Foundation Gala where they will be donating an additional $1200 toward teacher grants and student scholarships.
---
Huffines Subaru Corinth Shines on Bell Elementary - Kelley P
One bright and sunny day in Little Elm Texas there was an Elementary school that had had a wonderful day! The day had come to an end and our brave teachers were sent out on their missions of crosswalk duty and car line! While the brave teachers were outside the mighty sun beat down on them. The teachers cried "Dude! Mr. Sun! That's some bright light you've got there! Could you tone it down during duty though, please?" The Mighty Sun said "Ha! This is Texas! I can shine bright and hot on whoever I want! What are you going to do about it?" The teachers were at a loss! They had lost their eye shields (sun glasses) while they were basking in the relaxing summer break (working a second job during the summer) and were unable to find them again. Doo do do dooooo! Huffines Subaru Corinth heard the perils of the fantastic brave teachers and said, " Why I can save the day! I shall bring new eye shields (sun glasses) for all!" Bell Elementary Teachers and Staff were so grateful of Huffines Subaru Corinth! "You're our Hero!"Huffines Subaru Corinth takes any oppertunity to lend a hand to the schools around them. This is truely and community supporter that is valued and appreciated. Thank you, Huffines Subaru Corinth
---
Grateful Mom - Unable to say U
In August 2019 Huffines Subaru in Corinth partnered with Arms of Hope to help a single mother and her one year old find a safe and reliable car. Arms of Hope helps motivated single mothers and their children transition into successful, independent futures by providing parenting skills, career training, and a home in a peaceful and safe environment. Our client had a series of unfortunate events: she was in a car wreck and out of desperation bought a car off of facebook and ended up getting scammed. She was sold a cash car with a fake title that had a lot of mechanical issues. We looked into how to get a title for the car but ran into many roadblocks. After many trips to the mechanic and the car being repossessed due to an unpaid loan from the previous owner, we were back to looking for a car. Arms of Hope reached out to Anthony Simmonds at Huffines Subaru Corinth and he helped us find an affordable and reliable vehicle for the family in need. We are very thankful for our partnership with Huffines Subaru Corinth and for support and compassion for our Arms of Hope families and those in need. Thank you, Arms of Hope.
---